Seitan Roulade with Apricot Mustard Glaze

Mattie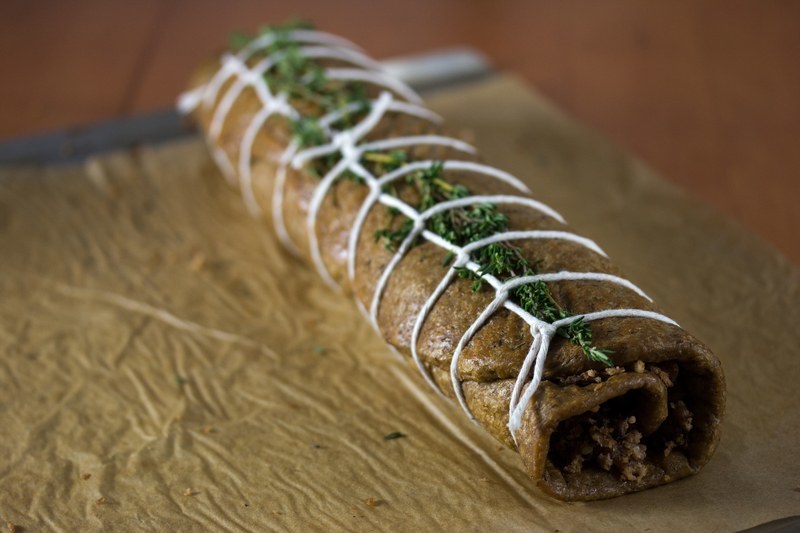 During the holidays of my youth I used to look forward to various animal-based table centerpieces that symbolized the crowning achievement of the feast. This high-protein, savory focal point would involve hours of anticipation, planning and boast a supporting role from several more simple, rustic freshly prepared vegetable dishes. As I became older and came to prefer a vegan diet, holiday meals consisted of me either avoiding the animal-based centerpiece or finding myself lucky enough to be in a situation where all of the dishes consisted of the rustic, vegetable-based fare.
I still miss the excitement and curiosity that goes along with a savory centerpiece: How tender will it be when I slice into it? What succulent surprises will I find? Oh and the aromas wafting thorugh the house! I wanted to bring this excitement to vegan holiday feasts when I set out to create Seitan Roulade.
Seitan Roulade consists of a sheet of wheat gluten covered with a panko mushroom stuffing that's been simmered in a red wine balsamic reduction. It's then wrapped into a roll, glazed with Apricot Glaze and sprigs of thyme are placed on top before the roulade is tied with twine. The roulade is then baked in a dutch oven, sliced, served and drizzled with a gravy such as
Gracious Gravy
. This is a similar centerpiece to
Stuffed Seitan
but is a little more involved because it involves glaze, and the use of a dutch oven. The dutch oven helps the roulade retain it's shape, stay moist and become infused with aroma from the thyme sprigs.
Seitan Roulade with Apricot Mustard Glaze Recipe
Apricot Glaze
½ cup (118 ml) apricot preserves or jam
3 Tablespoons (44 ml) whole grain mustard
1 medim shallot, chopped coarse
1 ½ (7 ml) teaspoons tahini
¼ teaspoon (1 g) salt
Wheat Gluten Sheet
2/3 cup (156 ml) lentils, measured cooked
¾ cup (177 ml) water
¼ cup (59 ml) shoyu
¼ cup (59 ml) olive oil
2 Tablespoons (13 g) nutritional yeast flakes
½ teaspoon (.5 g) thyme
½ teaspoon (.5 g) sage
½ teaspoon (.5 g) rosemary
½ teaspoon (1 g) black pepper
½ teaspoon (1 g) nutmeg
½ teaspoon (1 g) onion granules
¼ teaspoon (1 g) garlic granules
¼ teaspoon (1 ml) liquid smoke
1 ½ cups (205 g) wheat gluten flour
Filling
2 Tablespoons (30 ml) canola oil
½ teaspoon (1 g) cumin seeds
1 red onion, chopped into ½ inch pieces
2 cloves garlic, minced
about 3 cups (228 g) shiitake mushrooms chopped into ¼ inch pieces (feel free to pulse in a food processor)
1 ½ teaspoons (8 g) salt
1 cup (237 ml) red wine
2 Tablespoons (30 ml) balsamic vinegar
1 cup (64 grams) panko or breadcrumbs
about half of a stalk of celery, chopped to ¼ inch cubes
1) Prepare the glaze
Place the apricot preserves, mustard, shallot, tahini and salt in a food processor and process until smooth. Set aside.
2) Prepare the flavor building ingredients for the seitan
Preheat your oven to 325F (163C). In a food processor or blender add the lentils, water, shoyu, olive oil, nutritional yeast flakes, thyme, sage, rosemary, black pepper, nutmeg, onion granules, garlic granules and liquid smoke. Purée until smooth.
3) Prepare the wheat gluten flour
Add the wheat gluten flour to a medium mixing bowl and set aside.
4) Knead the wheat gluten mixture together
Pour the wet ingredients into the bowl containing the wheat gluten flour and stir until well incorporated. Knead the wheat gluten mixture in the mixing bowl for 5 minutes.
5) Roll the wheat gluten mixture out to size
Place the ball of wheat gluten on a smooth, clean surface and roll out into a 12 x 12 inch square using a rolling pin. You may have to work a little to roll it. Don't be afraid to press the rolling rolling pin into the wheat gluten to squish it into place. It will want to spring back but keep rolling and it will eventually spread out. Despite your efforts, the wheat gluten may roll into any shape except a square. Feel free to use clean scissors to cut off any excess and roll them back into the sheet where needed.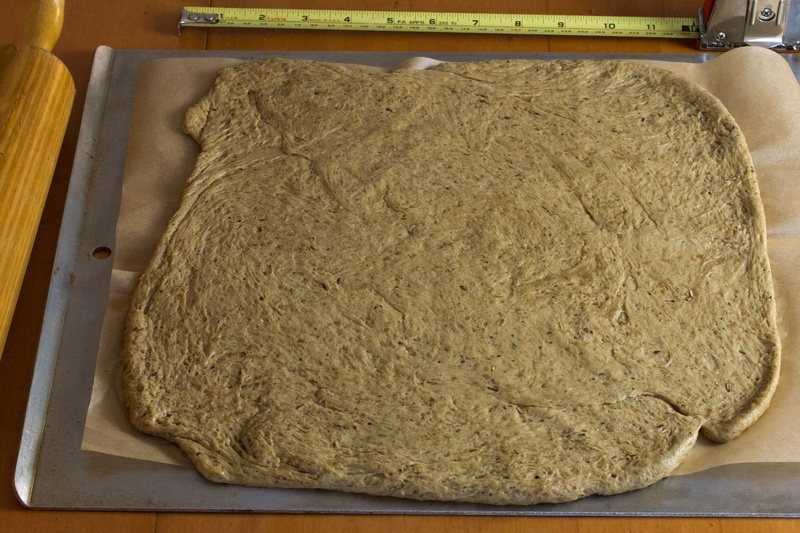 6) Transfer the wheat gluten sheet to a baking sheet and bake
Line a baking sheet that is at least 13 x 13 inches with parchment paper or liberally grease with vegetable oil and place the wheat gluten sheet on top. It's a good idea to give the wheat gluten a final roll session to ensure it's in a 12 x 12 inch square. Cover the sheet with tin foil and poke about 6 holes on the top to allow steam to escape. Bake for 30 minutes, rotating the sheet halfway through the baking duration to ensure even baking. Remove the wheat gluten from the oven, carefully remove the tin foil and allow to cool.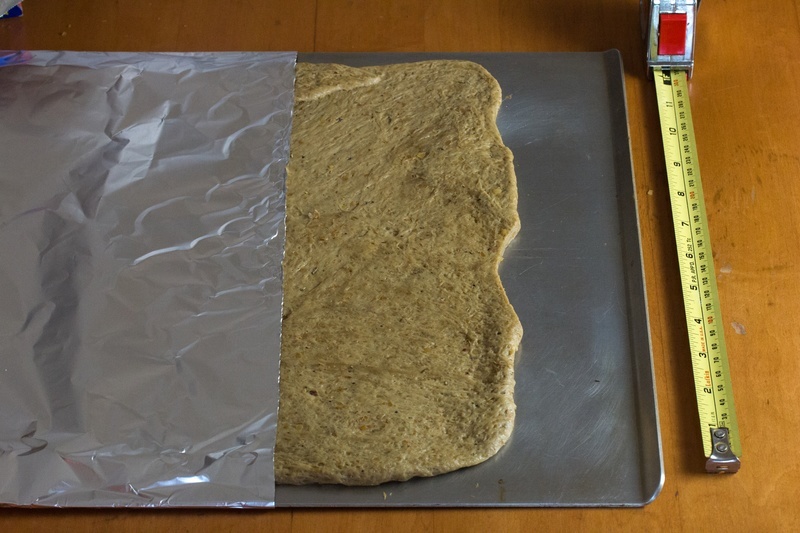 7) Sauté the flavor building ingredients for the roulade filling
Heat up a large skillet over medium heat and add the canola oil. When the oil is hot, add the cumin seeds and sauté until they start to sizzle, about 30 seconds. Now add the red onion and sauté for 5 minutes. Add the garlic, mushrooms, salt and saute until the mushrooms are soft, about 5 to 8 minutes. Deglaze with the wine and balsamic vinegar then simmer for about 10 more minutes or until the mixture is slightly runny. Remove from heat and whisk in the bread crumbs and celery. Set aside.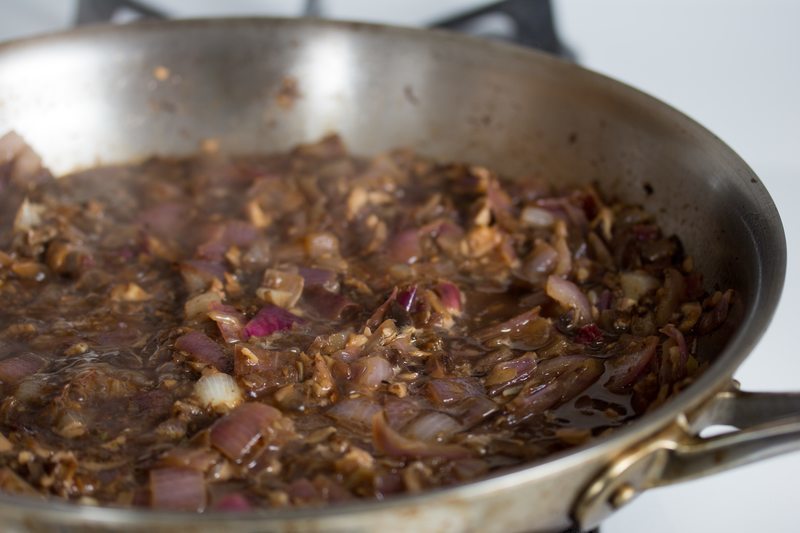 8) Apply the roulade filling to the wheat gluten sheet
Ensure that your oven is still heated to 325F (163C). Spread the filling evenly over the top of the wheat gluten, leaving a 1 inch part of bare wheat gluten on the upper edge. Use the bottom of a drinking glass to compress the filling, twisting as you lift up so the glass separates from the filling. Grasp the edge of the wheat gluten closest to you and roll it away from you, pinching the wheat gluten as you roll so it's rolled into a cylinder.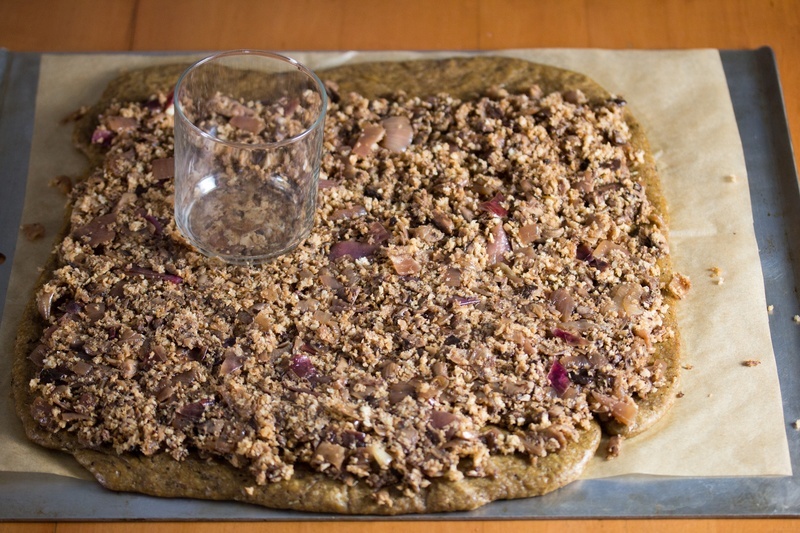 9) Tie the roulade into place and coat with glaze
Cut 2, 5 foot pieces of butcher's twine and tie each one around opposite sides of the wheat gluten so it will retain its roulade shape. Tie each string of butchers twine around the roulade, working your way inward towards the middle. Tie both srings together where they meet in the middle. Liberally brush the roulade with Apricot Mustard glaze. Cut a piece of parchment paper big enough to cover the bottom and a couple sides of your dutch oven. This step is crucial because if you omit the parchment paper and just coat the dutch oven with vegetable oil, the roulade will stick. Don't ask me how I know. Place your roulade into the dutch oven, bending it into a horseshoe shape and making sure the roulade is touching only parchment paper.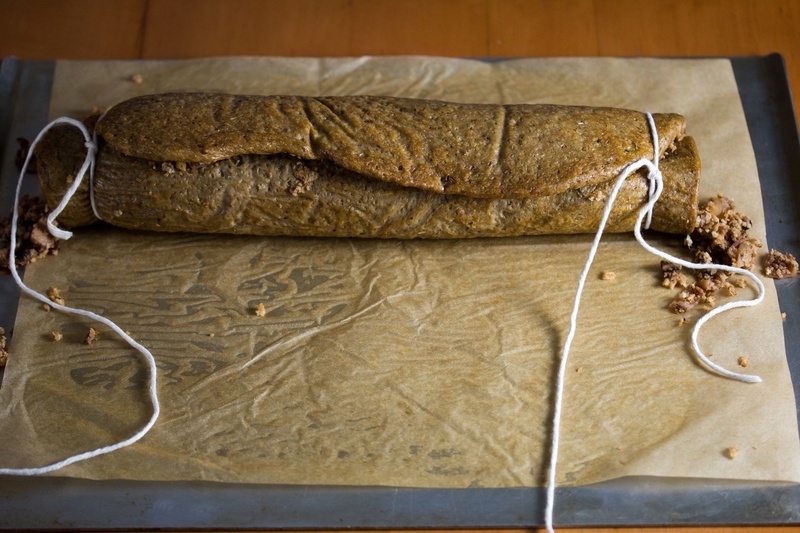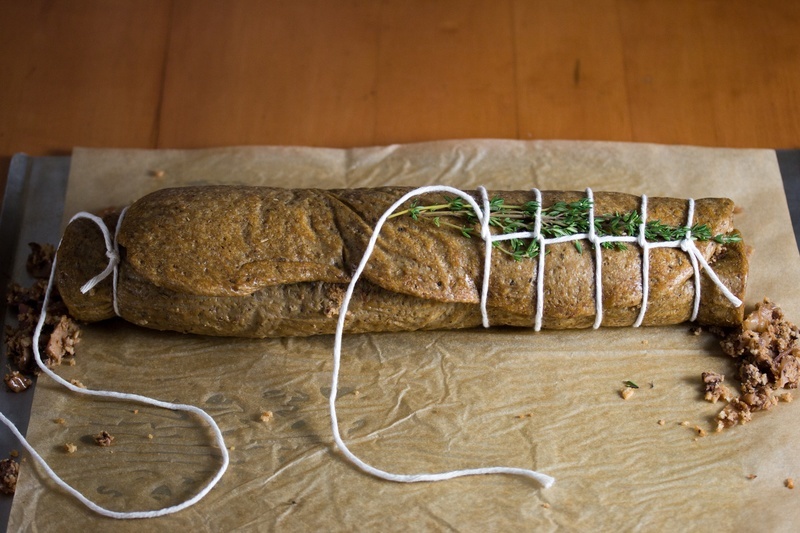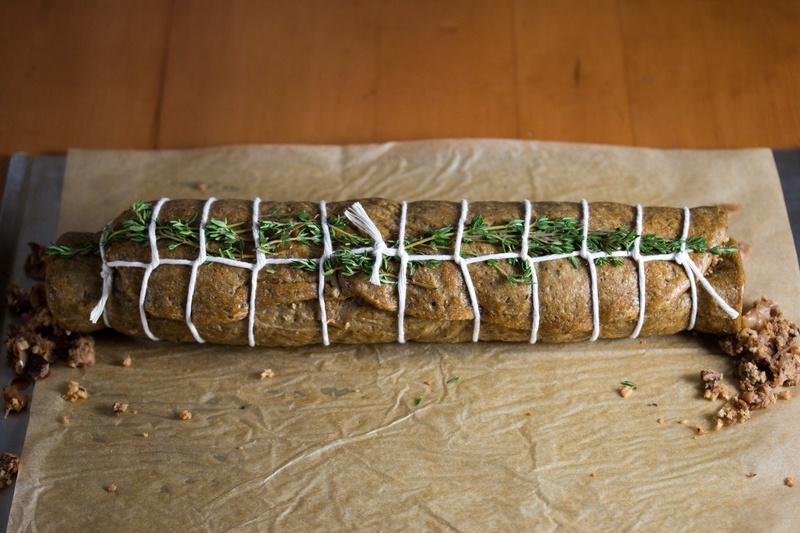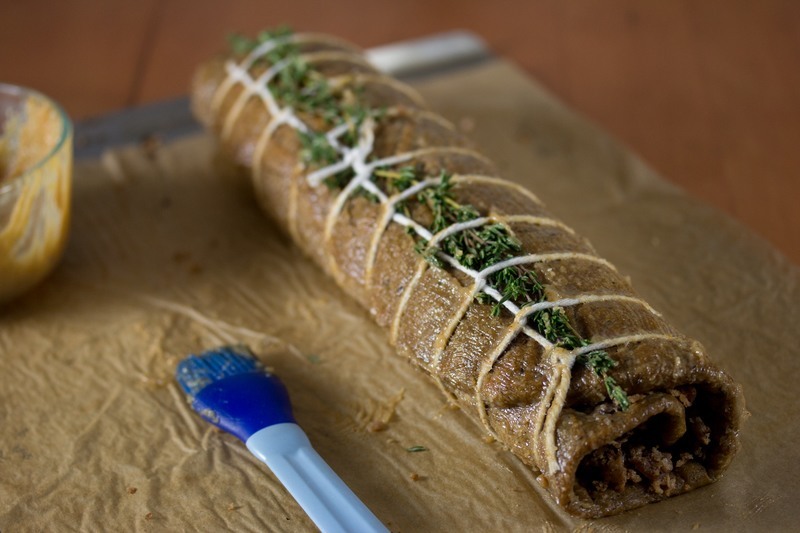 10) Bake the seitan roulade to perfection
Bake the roulade for 1 hour. If your dutch oven is large enough and you're feeding more than six guests, you can bake 2 roulades in your dutch oven. If you choose to do this, bake them for 1 ½ hours. Remove the dutch oven from your oven, take off the cover and allow the roulade to cool for 15 minutes before lifting it onto a cutting board slicing with a serrated knife. Using a serrated knife is important because you want to slice the roulade without compressing it so the filling stays intact. Serve with
Gracious Gravy
drizzled on top. It can be stored in a container in the refrigerator for up to a week or in the freezer for up to 3 months. This recipe for Vegan Seitan Roulade serves about 4 to 6 people.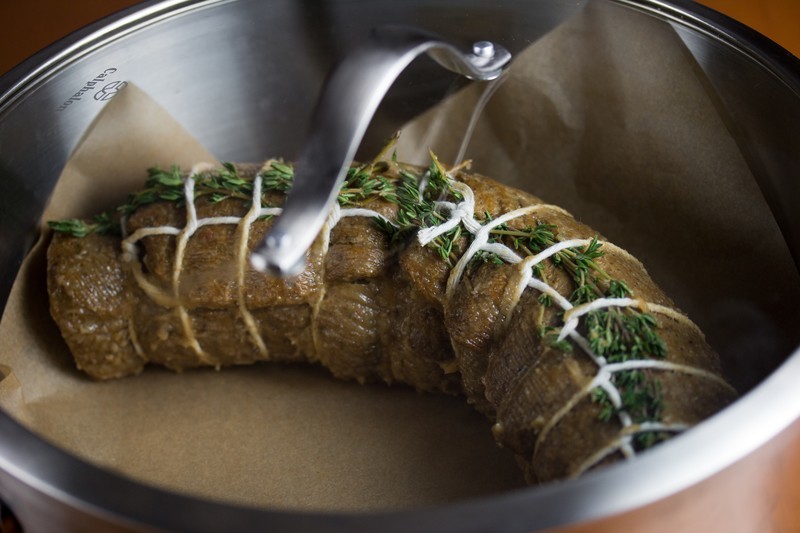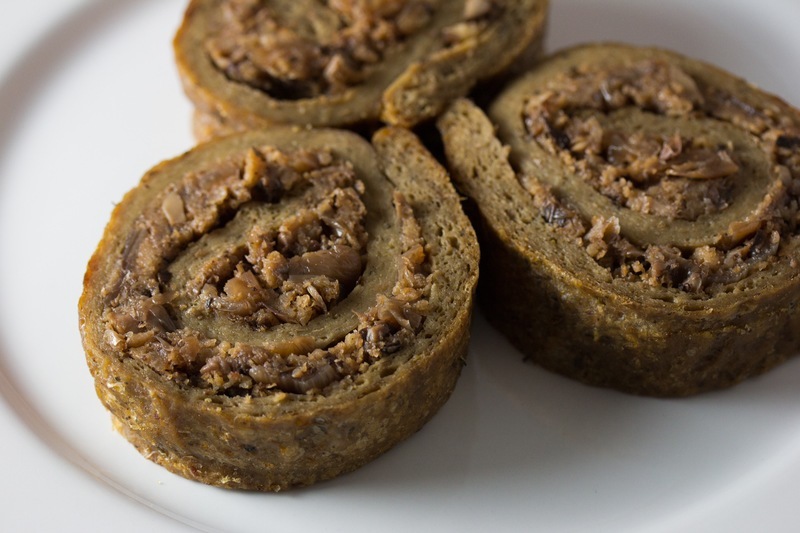 User reviews
UB
Great Recipe - Thanks a lot
I used the recipe a few times now and it is great - even our non vegan friends liked it a lot. I use a different filling: a mix of tomato paste with mustard plus some thyme to apply on the sheet before putting some smoked tofu, some dried tomatoes, and some scallion. Next time I'll try the proposed version. In terms of effort I think it is not more than making real meat roulades, but it feels much better.
Was this review helpful to you?
ChocoholicPhilosopher
Can't edit? Missing link was to http://chocoholicphilosopher.blogspot.com.au/2014/12/an-early-vegan-christmas.html
Was this review helpful to you?
ChocoholicPhilosopher
Impressive
I made this for an early Christmas dinner, and it was a great success. One star off for the amount of time involved, I think it's the most involved recipe I've every made.

To answer my own question from earlier, I used brown lentils, and they worked great, but, having made it now, I think any would work as they get blended.

I found that kneading for 5 minutes resulted in a slightly tough seitan, probably because of all the time I needed to spend pummleing the dough with the rolling pin to get it approximately square. When I made it "for real", I kneaded for 3.5 minutes, and the texture was better.

Also, be aware that the glaze makes way too much - I glazed the test run and the real thing off one lot of glaze, and still had leftovers. The glaze was also a bit too thick the first time round, so I added a little extra water before glazing the second attempt.

I've got some photos of my attempt here
Was this review helpful to you?
ChocoholicPhilosopher
Lentils?
Mattie, this looks amazing. I want to give it a test run to see if I should make it as our Christmas centerpiece dish. Just wondering what kind of lentils you used?
Was this review helpful to you?
cara
this is zoo delicious. thanks for the great recipe!!!
Was this review helpful to you?